Ecologies of Emptiness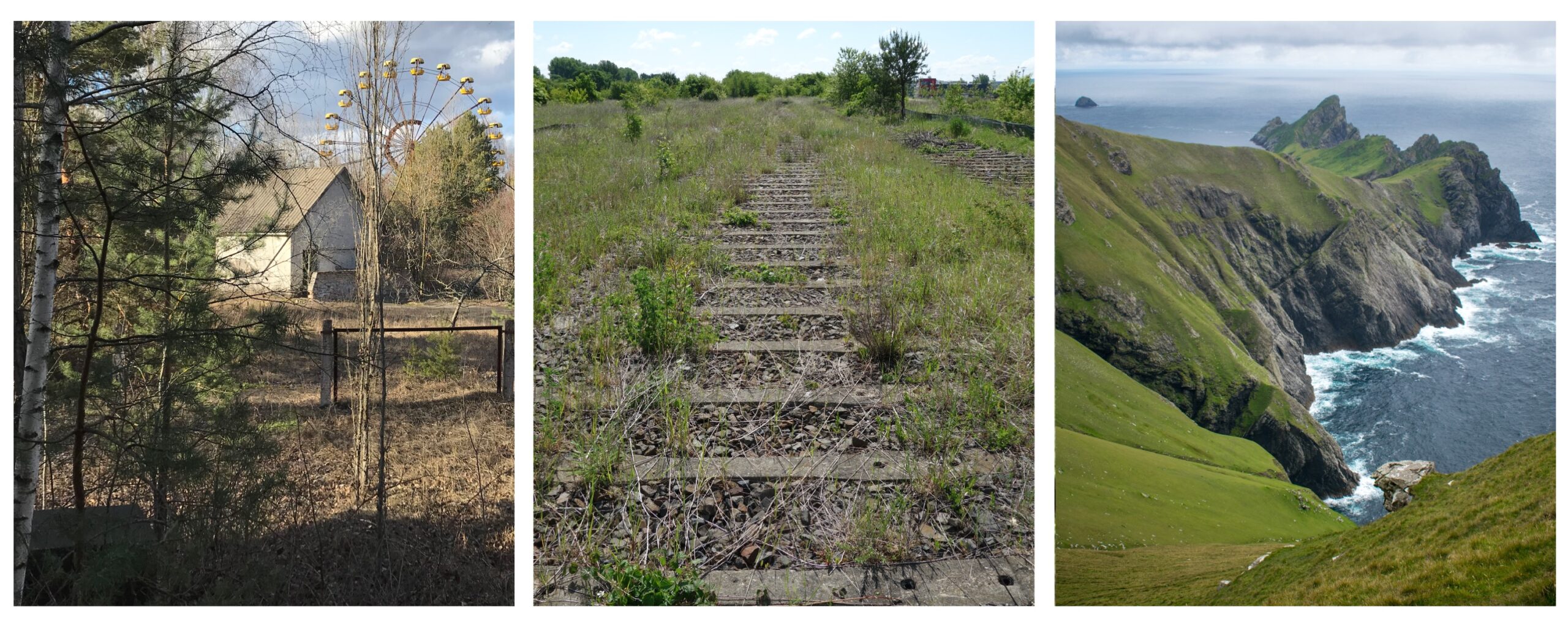 This is a collaborative project between Sandra Jasper, Adam Searle, and Jonathon Turnbull.
We approach this collaborative project with a question: how can scholars theorise emptiness across species, scales, and causal agents? The emptying of space via an absence of human activity is often visually associated with the presence or resurgence of various plants, animals, and other nonhuman beings. Their presence can be viewed as relatively novel—in the case of abandoned cities like Pripyat in the Chernobyl Exclusion Zone—or can be seen as more 'natural'—such as the Konik horses deliberately introduced to the Oostvaardersplassen rewilding site in the Netherlands to 'complete' the nonhuman ecosystem. Ecologies of emptiness can differ greatly depending on their causal agent, the species associated with emptiness in different contexts, and the way their ecological properties are valued.
In this project, we present a more-than-human reading of emptiness, considering the ecological implications of various intensities of human absence. To do this, we draw comparisons and contrasts between three case studies to help build a typology for thinking about the ways ecologies of emptiness vary:
the Chernobyl Exclusion Zone in Ukraine, to which nature has 'returned' following its abandonment in the wake of the nuclear catastrophe of 1986 (Jonny);
abandoned spaces in Berlin, whose ecologies have been shaped by contested geopolitical histories (Sandra);
the St. Kilda archipelago in the Northern Atlantic, whose inhabitants left for the Scottish mainland in 1930 (Adam).
Drawing on fieldwork in these three sites, which have diverse relations to emptiness, we are exploring how nature is viewed, valued, and experienced differently at each, developing situated understandings of the varieties of emptiness across species, spaces, and scales. We attend to the intersections of political economy, political ecology, and the uneven experiences—human and nonhuman—of emptying spaces, and their varying relations to capital.
Jonny is a cultural geographer based at the University of Cambridge. His current research explores the human–animal relations and weird ecologies of the Chernobyl Exclusion Zone. He also writes on urban ecologies, digital ecologies, filmic methods, human-nature relations during lockdown, and the bovine geographies of India's sacred cattle. You can contact him here: jjt44@cam.ac.uk or on social media: @jonnyjjt.
Adam is a cultural geographer at the University of Cambridge whose research is broadly interested in the relationships between humans, animals, and technologies. His recently completed PhD focused on the role of biotechnologies in the extinction crisis, specifically focusing on a de/extinction project that attempted to bring back the Bucardo to the Pyrenees. He has ongoing projects on digital ecologies, filmic methods, human-nature relations during lockdown, and bovine geographies. You can contact him via email at: aeds2@cam.ac.uk or on social media: @admsrl.